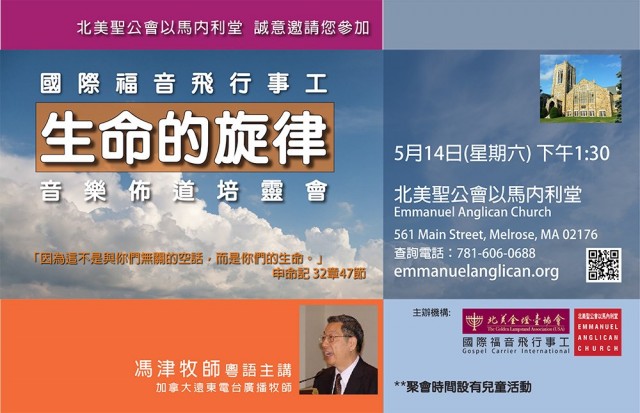 [youtube url="https://youtu.be/uugApF3SW54″]
(This is a 360 Video. For the best result, please watch it on a smartphone via the YouTube app.)
國際福音飛行事工將於本堂舉行「生命的旋律」音樂佈道培靈會,由馮津牧師以粵語主講。我們誠邀及歡迎各位教會弟兄姊妹及慕道者參加。聚會時間設有兒童活動。 國際福音飛行事工在1993年成立。多年得到不少有異象、有恩賜的義務傳道及牧者, 如喬宏夫婦, 馮津牧師, 王其昌牧師及葉特生弟兄等同工,駕駛飛機到美國不同城市,尤其是小城鎮舉行聚會,關顧特別是散居在美國偏遠地區的華人的靈裡需要。
馮津牧師於一九七三年移民加拿大開始教會牧養工作,並進入安大略省神學院進修,在美加等地華人教會牧會三十多年之久,忠心事奉。馮牧師熱心福音廣播,從事空中牧養及空中神學教導事奉至今二十多年,是一位很受聽眾觀迎的空中牧師,現任加拿大遠東廣播之駐台牧師,致力拓展事工。
We are delighted to host Gospel Carrier International for a musical evangelical and revival event — The Melody of Life, with guest speaker Rev John Fung. We cordially invite all brother and sisters in Christ and seekers as well to come share the music and the message. Children's program available during the event.
Gospel Carrier International was founded in 1993 and assisted by many visionary and gifted evangelist and pastors. They fly small aircrafts to cities in the US, especially to small towns to meet the spiritual needs of those Chinese speakers spreaded out in remote places in the country.
Rev. John Fung moved to Canada in 1973 to begin ministry work, and he also further his studies at McMaster Divinity College. He has served faithfully in Chinese churches for more the 30 years to date. Rev. Fung is also enthusiastic about broadcasting Gospel messages and has been involved in ministry and theological teaching over the airwave for more than 20 years, welcomed by his audience. Currently he serves as the preacher at Far East Broadcasting Associates of Canada.